THE MAY FLOWERS series is a continuation of THE SILVER FOXES OF WESTMINSTER series, involving the younger generation.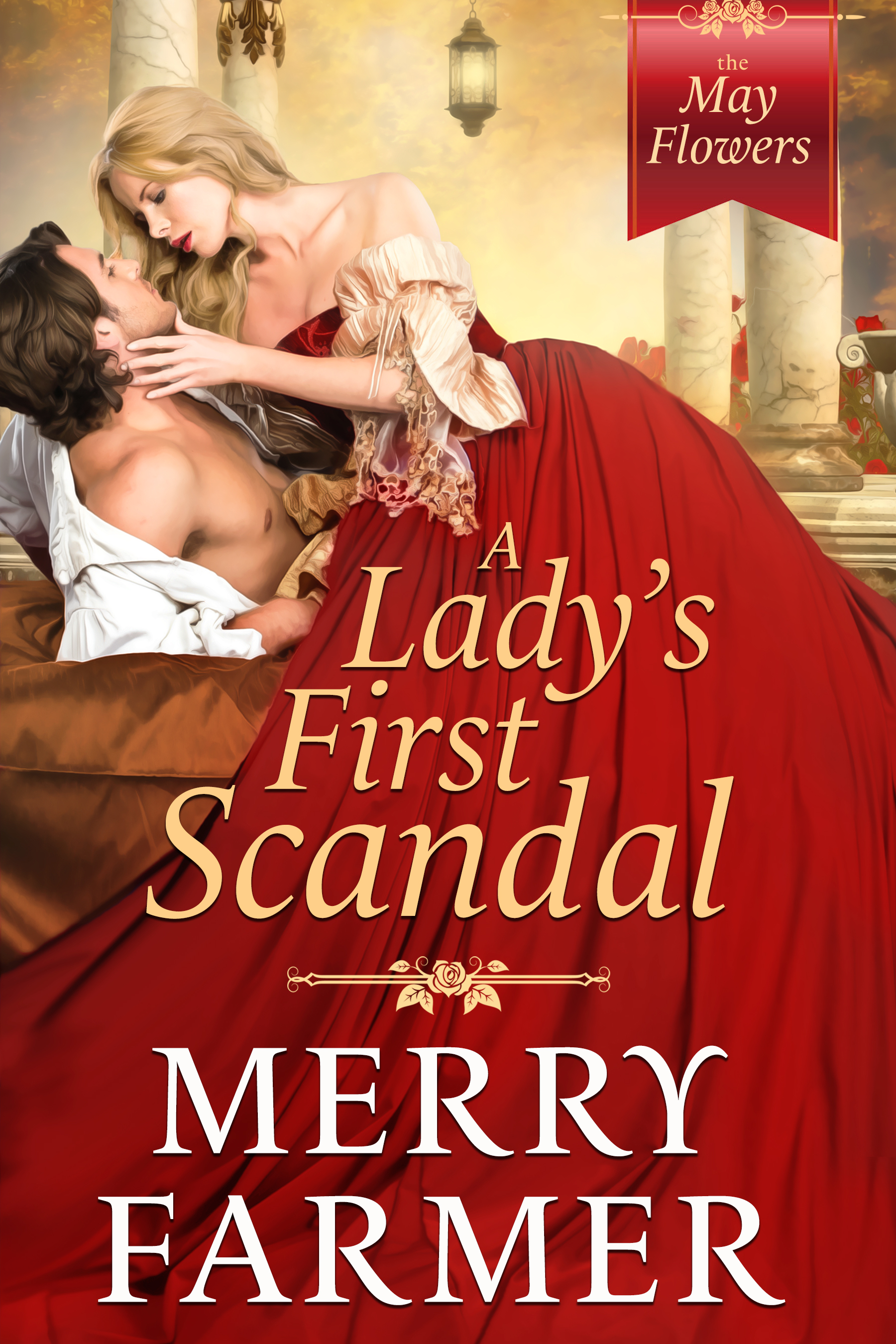 A Lady's First Scandal (Book One)
Four years ago, Lady Cecelia Campbell fell head over heels in love with Lord Rupert Marlowe, the young Earl of Stanhope. Everybody knew they would marry and live happily ever after.

But then Rupert did the unthinkable. He took up a commission as an officer in the army and left England for a post in the Transvaal. Cecelia was left alone in England, loving, yearning, and worrying about him from a distance.

Now Rupert has returned. He is ready to take up his seat in the House of Lords, to take over the administration of the Stanhope estate from his mother, Lady Katya, and most importantly of all, to finally marry Cecelia.

Cece isn't the same woman Rupert left behind, however. She has grown and flourished and become a woman of strength and opinion. And she's not going to sit back and let Rupert get away with leaving her for so long.

But when Cece takes a stand and declares her independence in a very public way, the scandal her defiance causes blows every expectation for her future happiness with Rupert to smithereens. It also gains her an exclusive invitation to join the elite group of politically-minded women known as the May Flowers. But the May Flowers are a group of shocking, defiant, sometimes wicked women. They are a bundle of scandals waiting to happen.

Can Rupert convince the new, more powerful Cecelia to forgive him for abandoning her, and can he woo her all over again? Will the scandal of their break-up tear them apart forever, or will it make their love stronger…and hotter?

PLEASE BE ADVISED: Steam level – very spicy!
It's Only a Scandal if You're Caught (Book Two)
Lady Bianca Marlowe has a reputation for being beautiful, bold, and bad. She shocks the delicate matrons of London society at balls and tea parties with her outspoken opinions and turns the head of every red-blooded male in London with her daring fashion choices and flirtatious ways. When she is admitted into the prestigious May Flowers ladies' political society, it seems as though no one will be safe from her audacity. There is only one man who can tame her wild ways.

Jack Craig's climb up from his birth in a brothel in Seven Dials to become a Chief Inspector at Scotland Yard was a long and arduous one, but after a series of high-profile arrests, his reputation as one of London's most powerful law enforcement officers is firmly established. His advancement within the Metropolitan Police, and even a knighthood, seem inevitable. Jack has just one weakness—his passion for Lady Bianca.

Their attachment is as unsuitable as it is fiery, and neither are willing to listen to reason and stay away from each other. Especially once Bianca helps Jack uncover a plot to attack the Houses of Parliament that would make Guy Fawkes look like an amateur. But when the inevitable results of their affair turn them both into social outcasts and pit them against each other, they must either discover the true love that has burned beneath their passion or risk an explosion that could put more than their own lives at risk.

PLEASE BE ADVISED: Steam level – very spicy!

The Scandal of a Perfect Kiss (Book Three)
She doesn't have time to fall in love….

Lady Henrietta Hopewell, the widowed Marchioness of Tavistock, is one of the most powerful women in London. As the leader of the most prestigious ladies' club in town, The May Flowers, she holds the course of British politics in the palm of her hand, all while raising her beloved son, Ricky, the current Marquess of Tavistock. Offers of marriage fly her way at every turn, but Henrietta's heart belongs to only one man.

He doesn't have the heart for romance….

After a vicious attack just over a year before, Lord Fergus O'Shea is struggling to become half the man he once was. Confined to a wheelchair, dependent on his friends for a home in London, he can think of only one thing—bringing Lord Charles Denbigh, the man behind his attack, to justice. But even as Fergus closes in on Denbigh, every fiber of his being longs for the one thing he knows he can never have, Henrietta.

Henrietta is unwilling to be held at arm's length, though, and sets out to prove to Fergus that he is more than man enough to satisfy her on every level. But when the scandal of their intensifying relationship puts Henrietta in danger of losing her son, she must choose between the two people who share her heart. And when Lord Denbigh turns out to be the wedge keeping Fergus and Henrietta apart, Fergus must summon up the strength he thinks he's lost and overcome his physical disabilities to show Henrietta, Denbigh, and the world that true strength comes from the heart.

PLEASE BE ADVISED: Steam level – very spicy!