Trail Blaze is a prequel novella to BOTH the Hot on the Trail series and the Montana Romance series.
Darcy Howsam has one last chance to be a respectable woman and to have a secure life: traveling along the Oregon Trail to become a mail-order bride for a miner in California. But when the man who paid her way to meet him at Ft. Laramie takes one look at her and rejects her, demanding his money back, Darcy finds herself alone and desperate.

Gregory Quinlan has staked his future on moving west and building a life in Oregon. A wife isn't part of his plan. But when Darcy finds herself in trouble, he steps up to be a friend to her. The two hatch a plan to convince her should-be husband to take her back, only the more they work together, the more Greg falls in love. But what good is love when Darcy belongs to someone else?

Against the odds, on an epic pioneer journey, Greg must fight to fix the mistakes he's made and win back the woman who won his heart with her smile.

PLEASE BE ADVISED: Steam Level – Hot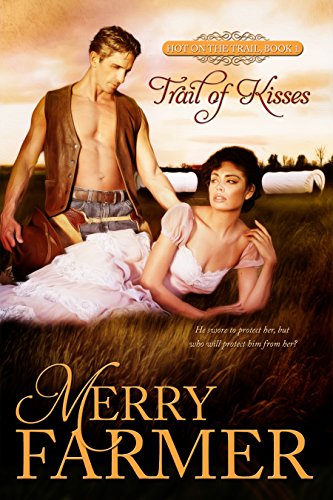 Someone is trying to kill Lynne Tremaine. After her father sentences two members of The Briscoe Boys gang to death, Judge Tremaine feels he has no choice but to send Lynne to Denver City along the Oregon Trail to live with her Uncle George…against her will. For Lynne, the only thing worse than being sent away to the wild west is making the journey with the handsome, arrogant, wicked man her uncle has hired to escort her. Especially when the anger she feels toward him begins to turn to something hotter.

Cade Lawson is determined to prove himself to his employer, George Tremaine, after letting him down months earlier. But what he thought would be his second chance may, in fact, be a harsh punishment for his past mistakes. Lynne is headstrong, fiery, and determined to show him she is fearless. She is also beautiful and tempting, and when Cade sees just how afraid she really is underneath her brave act, he may be in danger of losing his heart to her forever. When her would-be killer attacks, it's all he can do to keep Lynne safe.

He swore to protect her, but who will protect him from her?

PLEASE BE ADVISED - Steam Level: Hot
Callie Lewis is alone on the Oregon Trail. After her brother's death, she has been left to fend for herself on a journey she never wanted to take. Her only hope for safety and a life at the end of the road is to become a trail bride and wed grieving widower John Rye. But John is harboring secrets that could end their hasty marriage before it has a chance to begin.

When a vicious tornado wakes John from the stupor the death of his wife left him in, he is ready to embrace Callie and the new life they could have together. But John is not the only one with designs on his new wife. Miles away from civilization, in a wagon train bristling with secrets and suspicion, John must catch a thief, fend off his rival, and reclaim his life to build the future Callie deserves.

In their darkest moments will they bring each other hope?

PLEASE BE ADVISED - Steam Level: Hot
Trail of Longing (Book 3)
Emma Sutton fell in love with Dr. Dean Meyers on the very first day of their journey west on the Oregon Trail. Dean is handsome, caring, and noble. If only she could tell him! But between her crippling shyness and the marital machinations of her mother, she despairs of ever being able to say what's in her heart. When a sudden injury puts her in Dean's hands, literally and figuratively, she hopes she might just have a chance with him…until a ghost from Dean's past comes between them.

Dean Meyers is determined to make the long journey west to start a new life and leave the horrors of the Civil War behind him. He is charmed by Emma and amused by her mother, and can finally see peace in his future. But when an old colleague shows up to turn his world upside down, it's all Dean can do to keep love, hope, and Emma from slipping away. All seems lost until Emma finds herself in danger and Dean is given a chance to be a hero…if he can reach her in time.

Love will give her courage to find her voice and follow her heart….

PLEASE BE ADVISED - Steam Level: Hot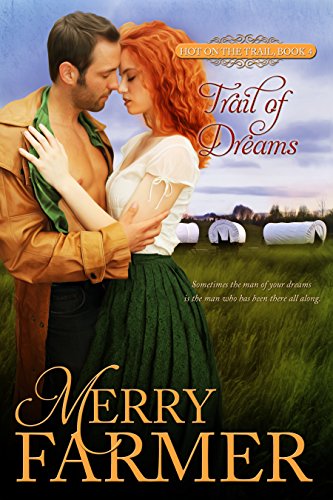 Katie Boyle has known Aiden Murphy her whole life. Everyone expects them to marry someday, but as much as she cares for her lifelong friend, Katie wants more from life. She craves adventure and excitement, and doesn't want to give in to the obvious choice. Heading west along the Oregon Trail is, in her mind, the beginning of the new life she has always wanted, and she intends to embrace it. But when she is abducted by a Cheyenne brave and taken to his village, she is in for more adventure than she bargained for.

Aiden has loved Katie for as long as he has known her, and is determined to win her, regardless of her protests. He has watched over her as she spread her wings without her ever knowing it. But his devotion is put to the test when Katie is taken. He risks everything to follow her and rescue her, only to end up as the center of attention in the Cheyenne village. His skill with music makes him an honored guest amongst the Indians, but can he save Katie before her fate is sealed forever?

Sometimes the man of your dreams is the man who has been there all along….

PLEASE BE ADVISED: Steam level – Hot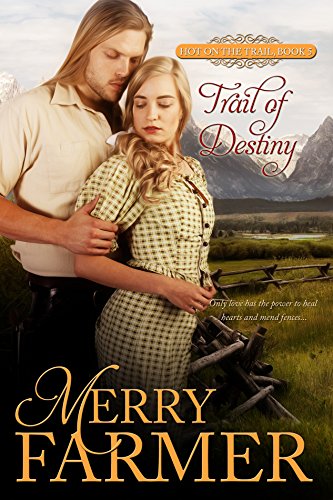 Trail of Destiny (Book 5)
Young widow, Alice Porter, never thought she would fall in love again, and that her family's journey along the Oregon Trail was the end of her story. Rugged militiaman, Jarvis Flint, never thought he would fall in love in the first place, even though he is determined to be a man of honor and to do his duty. But sometimes the things you never think will happen are the ones that hit you when you aren't looking.

When a routine rest along the trail turns into an opportunity to stop a land war between feuding brother and sister ranch owners, Alice finds herself draw into an adventure her grieving heart isn't prepared for. More than an adventure, as she and Jarvis work together to resolve the siblings' dispute, they find themselves battling a passion that neither can deny. In competition with each other and with themselves, they fight to uncover a love that is worth sacrificing for and a life after heartbreak.

Only love has the power to heal hearts and mend fences….

PLEASE BE ADVISED: Steam Level - Hot
Trail of Redemption (Book 6)
Estelle Ripley is not who she says she is. Running from the past she's left behind on a Georgia plantation, she's taken a job in a wagon train heading to new horizons along the Oregon Trail. If she can just keep her head down, do her job, and keep any of her new friends from discovering her secret, she'll be fine. After all, people don't ask questions on the frontier.

But Estelle didn't count on a shadowy figure from her past coming along on the journey, and she most certainly did not plan to fall head-over-heels in love.

Graham Tremaine's only reason for heading west is to deliver his sister Lynne's belongings to her new home in Denver. The Civil War has left him with more scars than his missing leg. Convinced he is now only half a man, wounded and with no future, he fights hard not to fall in love with the dark and mysterious Estelle. It's a losing battle, and as his passion for Estelle flares, so does his desire to protect her. But how can he fight her battles when she keeps so many secrets from him? And what kind of a life can a man who has lost himself provide?

Love is a journey that proves the heart has no limitations…

Please Be Advised - Steam Level: HOT
Trail of Passion (Book 7)
Lucy Haskell has a passion for danger and isn't afraid to let everyone know it. The Oregon Trail is the perfect way for her to travel home to her father's ranch in Wyoming, and to meet new friends and talk their ears off along the way. But Lucy's talking and risk-taking masks a darker fear—that no one could possibly love or even like a woman as unconventional as her.

All that changes when Gideon Faraday stumbles into her life…

Dr. Gideon Faraday is a scientist: intelligent, handsome, reserved, soft-spoken… and a murderer. He's heading west to atone for the lives he's taken, and the last thing he wants is to make friends on the trail or to fall in love. But from the moment he sees bubbly, daring, beautiful, fearless Lucy, he's smitten.

Gideon and Lucy can't fight the passion that pulls them together—with scandalous consequences—but when a mysterious stranger joins their wagon train and Gideon's life is in jeopardy, it will take all the daring Lucy possesses to keep Gideon alive.

Danger is just the beginning…

PLEASE BE ADVISED: Steam Level - Very Hot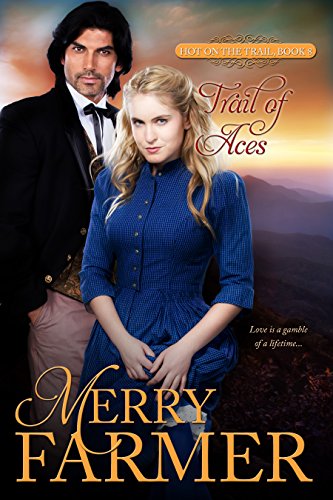 She never should have married him.

Olivia Walters is heading west along the Oregon Trail to escape a disastrous offer of marriage, but when gambler, Charlie Garrett, wins her hand in marriage in a poker game, she finds herself in exactly the situation she hoped to avoid. She is a woman of honor and determined to make the best of it, especially when her roguish new husband proves to me charming and seductive. But things aren't what they seem…

Charlie Garrett thought he could escape the crimes of his past and start a new life out West. He never intended to marry, but when clever school teacher, Olivia, loses her bet, he loses his heart. When a ghost from his past show up on the trail, intent on revenge, Charlie must become more than the charming rake in order to save Olivia and the surprising love growing between them.

PLEASE BE ADVISED: Steam level - Hot
Trail of Chances: Trail's End (Book 9)
Pete Evans has finally completed his last journey as trail boss on the Oregon Trail, leading his newfound friends all the way across the frontier to Oregon City. But his heart grows heavy as he realizes this means the end of his time with Miss Josephine Lewis and the orphaned Chance family. Sense and logic tell him he should collect his belongings and retire, like a man his age should, but something keeps drawing him back to Josephine.

Josephine Lewis has a whole life waiting for her with her niece in Denver City…so why does she find it impossible to cut ties and head where reason dictates she should go? She is certain she's too old, at age forty, to form any new attachments, especially romantic ones. And how could a single woman of her age possibly be expected to become a mother to four orphans? Her final responsibility before moving on is to find a home for the Chance children.

But love has plans for Josephine and Pete that have nothing to do with reason or logic and that defy age. That is, if they can come to their senses before the Chance children find themselves in grave danger…
PLEASE BE ADVISED: Steam level - Hot
Hot on the Trail: Box Collection (Volume 1)
The first three books of the popular Hot on the Trail series are together here for the first time, along with an all-new short story, A Haskell Christmas Reunion! Each book is a stand-alone that can be read without having read the others.
Box Collection includes:
Trail of Kisses
Trail of Hope
Trail of Longing
A Haskell Christmas Reunion
PLEASE BE ADVISED: Steam Level – Very Hot
Hot on the Trail: Box Collection (Volume 2)
Books 4 – 6 of the popular Hot on the Trail series are together here for the first time! Gather up your mail-order brides and cowboys and come out to the old west to fall in love on the Oregon Trail… Each book is a stand-alone that can be read without having read the others.
Box Collection includes:
Trail of Dreams
Trail of Destiny
Trail of Redemption
PLEASE BE ADVISED: Steam Level – Very Hot
Hot on the Trail: Box Collection (Volume 3)
Books 7 – 9 of the popular Hot on the Trail series are here to complete your collection! Journey to the end of the Oregon Trail…an adventure that is just the beginning of a world of frontier romance! Each book is a stand-alone that can be read without having read the others.
Box Collection includes:
Trail of Passion
Trail of Aces
Trail of Chances: Trail's End
PLEASE BE ADVISED: Steam Level – Very Hot