CULPEPPER COWBOYS:
a contemporary western romance series by bestselling authors Merry Farmer and Kirsten Osbourne
Wyoming Wedding (Book 1) by Kirsten Osbourne
Karlan Culpepper has worked his entire adult life, and most of his youth, to build up the ranch he knew he would someday inherit. When his grandfather dies, and the terms of his inheritance include he and his three brothers marrying within six months, and at least one of them having a baby on the way within the year, things get trickier. Contacting Dr. Lachele Simpson, a professional matchmaker, seemed the only way to go! Hope, the oldest of the Quinlan Quadruplets needs nothing more than to get out from under her parents' roof, and take her sisters with her. She feels stifled, and she wants more than anything to marry. After a long weekend of testing, the four sisters embark on a road trip that would change their lives. Hope quickly agrees to marry Karlan, one of the four brothers waiting for her and her sisters in Wyoming. Will they be able to make their marriage work? Or should they have waited to get to know one another a little better like all their siblings had?
Rancher's Remorse (Book 2)
Faith Quinlan agreed to marry Cooper Culpepper as part of the deal she and her sisters signed to help the Culpepper boys fulfill the terms of their Granddaddy's will so they could keep the family ranch. But what Cooper doesn't know might hurt him. Faith is more than willing to help Cooper out—as he discovers, to his delight, on their wedding night—the trouble is, she thinks she's not able.

But Faith has more than one secret. Her quaint doll-making hobby is more than just a little fun, her dolls have become a nationwide phenomenon. When a reporter shows up to do a story about Faith, Cooper gets all the wrong ideas…and those wrong ideas could spell disaster for their brand-new marriage. Can Faith face her fears and tell Cooper the truth…before Cooper carts her off to the loony bin or jail?

PLEASE BE ADVISED: Steam Level = HOT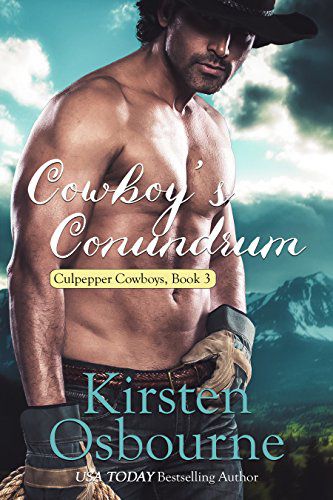 Cowboy's Conundrum (Book 3)
by Kirsten Osbourne
Joy Quinlan has spent her entire life trying to be the personification of her name. When she moves to Wyoming with her three sisters, she is determined to keep looking happy, as she always has. She worries that none of the four exciting Culpepper men will be interested in her, but sexy Kolby makes a beeline for her as soon as they meet.
Kolby Culpepper has known for years that his heart must remain removed from any relationship. When he spots Joy sitting on his mother's sofa, he knows she's the Quinlan Quad for him, but he becomes more determined than ever to keep from loving again. Will this unlikely pair be able to see past their hang-ups? Or are they destined to spend the rest of their lives without love?
Teacher's Troublemaker (Book 4)
Her whole life, Chastity Quinlan has dreamed of NOT living up to her name. But now that she is free of her parents' iron rule, ready to say "I do" to Chris Culpepper, it looks like all that is about to change....

Chris Culpepper is more than happy to marry fun and feisty Chastity. He's looking forward to helping her obliterate the implication of her name. But if it's not one thing (*cough* wool allergy) it's another (*double cough* teeth marks).

But with all the sexual energy flying around, the true strength of Chastity and Chris's coupling may not be between the sheets. Each of them have dreams that they've left behind, thanks to pressure from their family. Now, with their powers combined, they may just find the courage to pursue those dreams, in spite of the odds stacked against them.

PLEASE BE ADVISED: Steam Level - Very Hot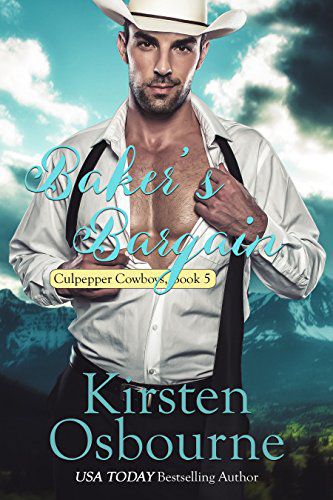 Baker's Bargain (Book 5)
by Kirsten Osbourne
Grace Quinlan is tired of living under her parents' thumbs. She's done volunteer work for years as a baker, and she feels it's time to spread her wings and open her own bakery. She takes her cousins, who are equally skilled in baking, along with her twin, and they move to Culpepper, Wyoming, where her older sisters have all found love.
When lawyer Marcus Wells meets Grace on her first day in Culpepper, he immediately knows she's the woman he wants to spend the rest of his life with, despite her propensity for telling him awful lawyer jokes. After spending a few days together, getting to know one another, he immediately asks her to marry. Can she overcome her strict upbringing and find happiness with him? Or will her past haunt them both for the rest of their lives?
Scotsman's Siren (Book 6)
From the day she was born, Honor Quinlan was forced to live up to impossible standards. Her twin, Grace, was always more feminine, more obedient, and more appreciated, while she was always reminded of how wicked and willful she was. So when she is given the chance to get away from her parents' iron rule, to move out to the Culpepper ranch in Wyoming—where her older sisters had married the Culpepper cowboys—and to marry rancher, Angus MacFarlane she runs for it.

But no one who was raised the way Honor was escapes unscathed.

All Scotsman Angus MacFarlane has ever wanted is a large, loving family, unlike the one he was raised in. He would give his life for Linda Culpepper and her sons and their ranch, especially when it comes to thwarting the machinations of the dastardly cousin Travis. But when Honor sweeps into his life, everything changes.

For Angus, it's love at first sight. But can he help her overcome the scars of her childhood and teach her to trust him?

PLEASE BE ADVISED: Steam Level: HOT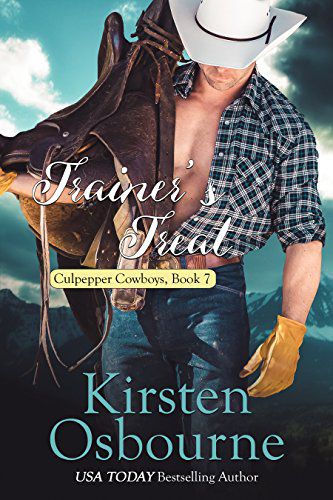 Trainer's Treat (Book 7)
by Kirsten Osbourne
Patience Quinlan moves to Culpepper, Wyoming, with only two expectations: That she would get out from under her father's thumb, and that she would open a bakery with two of her favorite people. Once those two things are accomplished, she is content. When a young ballerina walks into the bakery one morning arguing with her father about ballet camp, Patience immediately offers to help, remembering her desires to dance when she was small.
Ryan Bassett is a single parent with way too much to do to be able to get his pink-clad ballerina daughter to ballet camp every day all summer. When the pretty girl behind the bakery counter offers to help him and his daughter out, he's skeptical at first but realizes she could be the answer to his prayers. Will the friendship formed between woman and girl lead to a special relationship between Ryan and Patience? Or will the strain of the past keep them apart?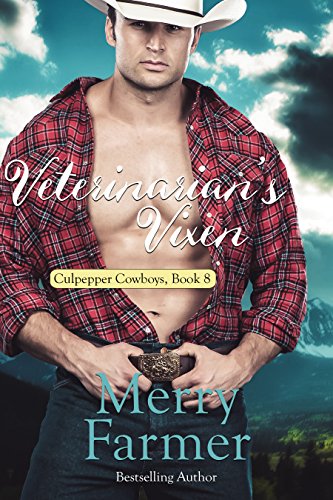 Veterinarian's Vixen (Book 8)
When reporter Nancy Tilson visited Culpepper, Wyoming to do a story on the Quinlan Quads the real scoop was her instant connection with hunky veterinarian, "Doc" O'Donnell. But months have passed, without a single call from Doc. Now Nancy is back in Culpepper to cover the Culpepper Stakes, a Fourth of July horse race, and to seek out answers to why the spark between her and Doc fizzled out…

Doc is shocked to see Nancy back in town, especially after she brushed him off by giving him a fake phone number, ruining a promising start to a budding romance. He is determined to fight the feelings he still has for her, especially when Nancy's slimy boss, Stu, hints that he and Nancy have something going on…

But all is not as it seems. As one set of misunderstandings untangles, a whole other batch of problems springs up. Problems that lead to Doc not just treating the horses for the Culpepper Stakes, but entering the race himself. Stu is not the sort to take defeat lying down, though, and for a second time, Nancy and Doc's relationship is in danger of fizzling before it gets off the ground…

PLEASE BE ADVISED: Steam Level - Hot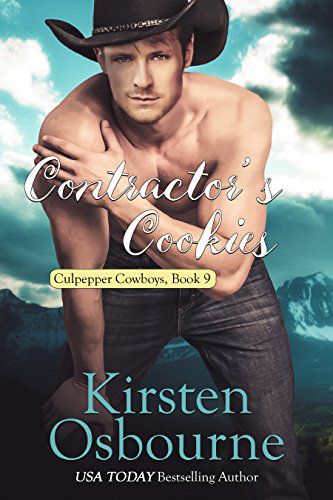 Contractor's Cookies (Book 9) by Kirsten Osbourne
Felicity Quinlan has always felt like the odd duck. She was raised in a family who didn't allow her to do much of anything, and her personality has always been suppressed. When she moves to Culpepper, Wyoming, she watches her cousins and sister fall in love one by one, until she is the last Quinlan standing. She hopes she'll eventually find love, but for now she's too busy working in the bakery she started with her sister and cousin.
When Allen Jennings loses his first wife to one of the cursed underwear models that plagues Culpepper, he's certain there's something wrong. He isn't sure if it's with him, or human nature, but he knows he'll never have someone who will stay by his side. When innocent little Felicity Culpepper comes at him, armed with three cookies every hour, he doesn't know what to think. Will Felicity be able to convince him that some women do love forever? Or will they spend the rest of their lives hoping for the impossible?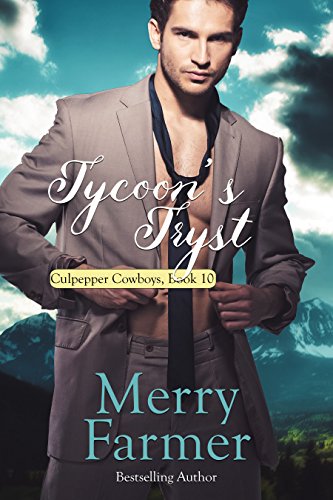 Ever since most of the women of Culpepper Wyoming were stolen away into marriage by a pack of gorgeous underwear models after a snowstorm several years ago, Sly O'Donnell has been looking for a way to boost the female population and the reputation of his hometown. He thinks he's finally discovered the way to do it by suing underwear company responsible for the models for negligence. He has no intension of winning the lawsuit, but he knows it will gain just the kind of attention Culpepper needs.

His plan is foolproof…until he meets the CEO of Korpanty Enterprises, Rachel Korpanty.

Rachel has been trying to hold her father's company together since his death almost five years ago. Korpanty Enterprises is the only thing that she's every truly given her heart to, but under the terms of her father's will, she only has three more months to make a profit or the company will revert to her conniving sister, Bev. She has a chance to secure her company for good, until a freak lawsuit threatens to undo everything she's worked for.

Worse still, when she goes to Culpepper to confront the jerk who is suing her, she falls for him instead. But can her pride handle the blow, and will her company survive the triple threat of love, family, and underwear models?

PLEASE BE ADVISED: Steam Level - Hot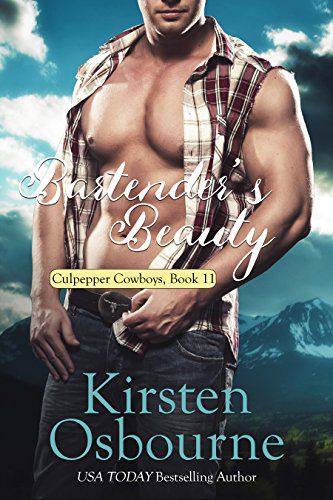 Bartender's Beauty (Book 11) by Kirsten Osbourne
Dallas Gustafson thought she'd seen Culpepper, Wyoming in her rearview mirror for the last time, but when her father tells her he needs her to come home while he's on his death bed, she sucks up her pride and complies. Back in the town where she grew up with people who teased and tormented her, she finds herself face-to-face with the only boy she ever loved.
Austin James still carries a torch for the girl he loved as a boy, even though he's almost thirty. When she comes into his bar one summer night, he can't let her leave without telling her how he feels. When her father dies a short time later, he knows he has to do whatever it takes to get her to stay in Culpepper permanently. Will he be able to convince her they were meant to be together? Or will they both spend the rest of their lives without love?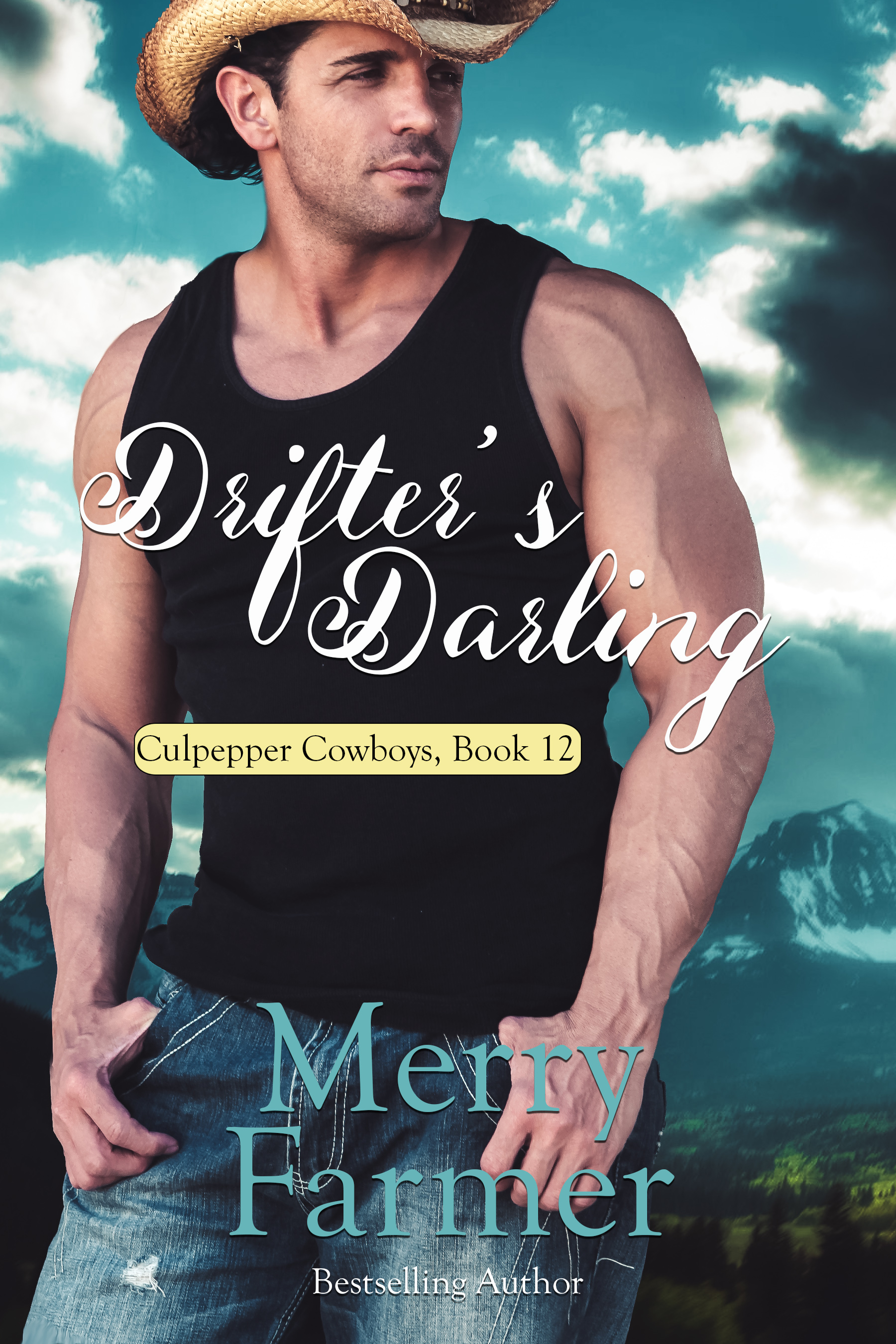 Drifter's Darling (Book 12)
They met at the Culpepper rodeo, and sparks flew…

Veterinarian Elvie O'Donnell was done with men after breaking up with her self-absorbed, lawyer fiancé, Andy, but that's when ruggedly handsome drifter Evan Lipinski walked into her life. But one sizzling day at the rodeo was all they had before Evan disappeared from Culpepper, but not from Elvie's thoughts…

Try as he might, Evan can't forget the vibrant and adventurous Elvie. In spite of the world of problems he's running away from, he returns to Culpepper to see if they can turn the sparks from the rodeo into something more. Elvie seems more than happy to pick up where they left off…

…until the lawyer who has been chasing him, intent on destroying his life as he knows it, shows up in Culpepper. He happens to be Elvie's fiancé, and wants her back. Can Evan escape the fate that awaits him, or is he running from his problems into temptation?

PLEASE BE ADVISED: Steam Level - Hot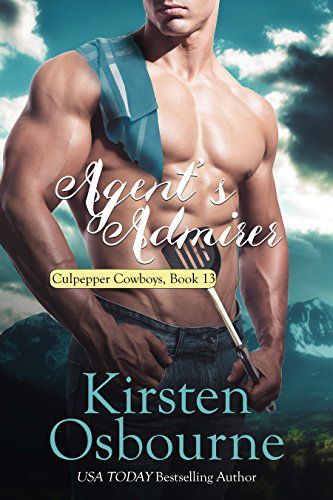 Agent's Admirer (Book 13) by Kirsten Osbourne
Megan Barrows has always loved her job and her home in Culpepper, Wyoming, but lately she's been unsettled. She feels like her life is stagnating and it's time to move onto something more. Her daily battles with Bob Bickel, the proprietor of Bob's Burger Barn, are all that keep her going sometimes. The man is testy and difficult…and handsome and sweet.

Bob Bickel has finally achieved his dream of owning a restaurant with all of his own recipes on the menu. He's having a difficult time perfecting a taco burger, so he enlists the help of Megan, the most faithful customer he has. Together they work to perfect the burger several of the pregnant women in the area crave, while learning more about each other. Will Bob's worries of the future keep him from taking a chance with Megan? Or will the two of them work through their issues to find out what a true partnership could mean?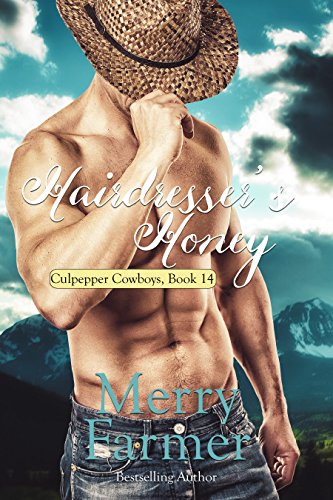 Hairdresser's Honey (Book 14)
Denise Bonneville has made a lot of mistakes in her life. In high school, she was the mean-girl cheerleader, dating the captain of the football team, Wes. When Wes dumped her after finding out she was pregnant, it only made Denise meaner. All she had for the next fifteen years, was her daughter, Destiny…right up until Chastity Culpepper's kindness changed her life and set her on the right track. But trying to be good is harder than it looks, especially when Denise's class reunion rolls around. Faced with those who bullied her at her downfall, Denise really needs a hero…
Hiroshi "Hero" Yamaguchi is on his way to his new job in Haskell, Wyoming when fate throws him the best curveball ever. He stops to help Denise when her car dies by the side of the road…and ends up stepping in to help her through her problems. Denise is everything his life has lacked—excitement, adventure, and caring. But by helping her, he ends up in a tough spot with Destiny, and with Wes. Can he step up and be the "Hero" that everyone needs?

PLEASE BE ADVISED: Steam level - Hot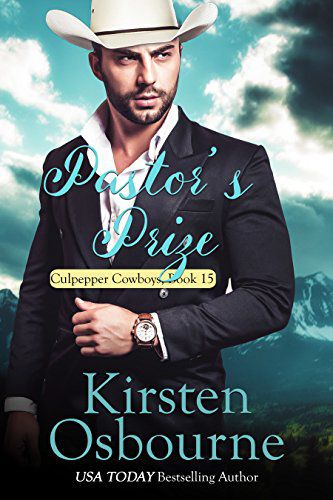 Pastor's Prize (Book 15) by Kirsten Osbourne
Rikki Dobson has spent her whole life living in her famous sister's shadow. When she moves to Culpepper, Wyoming to recover from a harrowing experience, it's the last place in the world she expects to find love. Working at a bakery with three loving women makes life easier, but she's still afraid of the world around her. When Pastor Benjamin, the handsome new associate pastor sits beside her in church, she doesn't know whether to be happy or frightened.
Ben Norton isn't looking for love. He's happy with his new job as assistant pastor and counselor for a small church in Culpepper. He's met the beautiful Rikki a couple of times, but it isn't until he sits beside her one morning that he realizes there is something more to her than meets the eye. Will Rikki be able to overcome her fears? Or will the two of them spend the rest of their lives alone?
Architect's Angel (Book 16)
Tabby Ross and Arch O'Donnell were the perfect couple the summer before their senior year of high school. But when they both ran for senior class president, their romance fell apart. From that point on, the two of them developed an epic rivalry, playing pranks on each other and pitting them against each other on every level.

Some things never change…

Fifteen years later, both Tabby and Arch are back in Culpepper, and their rivalry burns as hot as ever. The pranks keep on coming—some of them a little more dangerous than they should be. But when the tables are turned on the passionate rivals, it's their turn to join forces to play the ultimate prank. Only, in the end, the joke might just be on them. Christmas and New Year's may turn out to be the perfect way for two enemies to become lifelong lovers.

PLEASE BE ADVISED – Steam level - Hot
Culpepper Cowboys Compendium (Volume 1)
Now available together in one set! The first three of Merry Farmer's Culpepper Cowboys books!
The box set includes: Rancher's Remorse, Teacher's Troublemaker, and Scotsman's Siren
PLEASE BE ADVISED – Steam level - Hot