THE BRIDES OF PARADISE RANCH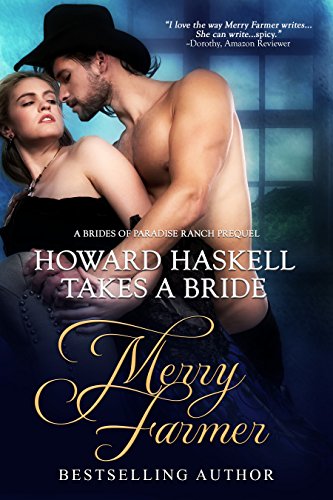 Howard Haskell Takes a Bride (Book 0)
This novella--prequel to The Brides of Paradise Ranch series--was originally published as part of the Love's Prelude box set.

Elizabeth Ayers is done with her stuffy, city life. Engaged to a man who couldn't care less about her to further her father's business dealings, she longs for adventure and the chance to see the newly opened West. But time is running out as her wedding draws near and the walls of her constricted world close in on her…

Howard Haskell is a man who knows what he wants, and from the moment he sees Elizabeth across a Cincinnati ballroom, he wants her. The rules of society are meant to be broken, as far as he's concerned, and regardless of disapproval on all sides, he sets out to win Elizabeth and make her his…in a matter of days…

Fans of The Brides of Paradise Ranch and Hot on the Trail know just how much Howard enjoys a good competition. Using a contest to win his wife is no exception. Only, Howard is the ultimate rule-breaker…

PLEASE BE ADVISED: Steam Level - HOT
His Perfect Bride (Book 1)
For Corva Collier, life as a mail-order bride in the quirky town of Haskell, Wyoming is her last chance for escape. She longs for a peaceful life away from the darkness of her past where she can create the paintings that are close to her heart, and where she hopes she can grow to love her husband.

But how do you love a man who was persuaded to marry you against his will?

Franklin Haskell never planned to marry. What woman would want a man who was crippled due to his own arrogance? But when he is offered the chance to help a woman in crisis, he agrees to wed. Corva is so much more than he expected, and when a baseball game gives her the chance to shine, he loses his heart.

But how do you tell a woman you love her when she deserves so much better?

The game of love has never been so hard to play…or so worth winning.

PLEASE BE ADVISED: Steam Level = HOT
If you would like to read this story without any "scenes," check out Corva: The Perfect Bride
His Dangerous Bride (Book 2)
Luke Chance has always been considered the life of the party, the bad boy troublemaker, known more for his winning smile and entertaining exploits than his character. But in his heart, Luke knows it's time to be a man. While others laugh at his antics, he longs for respect and the chance to prove he can be a leader. The first step toward becoming a leader is to send for a mail-order bride from Hurst Home…

Eden Gardner is more than ready to leave her shady past and her even shadier family behind for a normal life. She may be bold as brass, but that doesn't mean she doesn't long for safety, peace, and a husband to love and protect her. Luke seems like the answer to her prayers from the moment she steps of the train in Haskell, Wyoming…

But the past has a way of catching up with those who try to run from it, and Eden's brothers are no exception. Just when Luke is finally given the chance to prove himself, a far greater challenge will test his strength and his newfound love.

PLEASE BE ADVISED: Steam Level = HOT
If you would like to read this story without any "scenes," check out Eden: The Dangerous Bride
His Bewildering Bride (Book 3)
Seamstress Wendy Weatherford is overjoyed when she is offered the chance to be a mail-order bride for one of the men of Paradise Ranch. When she arrives in Haskell, Wyoming, her intended groom takes one look at her and refuses to go through with the wedding. He wasn't expecting his bride to be a former slave. Abandoned at the altar and alone on the frontier, Wendy doesn't know where to turn.

Until rescue comes in an unlikely form.

Travis Montrose has plans to start a new job and eventually own his own ranch, not to marry his brother's rejected bride. But he can't stand by and watch the exotic and beautiful Wendy suffer, particularly not when she proves to be a woman of strength and substance. Their unconventional union stirs up trouble from the start, even as it stirs passions.

When Wendy is given an opportunity to compete for the chance to own her own dress shop, Travis will stop at nothing to help her win against a crooked competitor…even if it means sacrificing his future.

PLEASE BE ADVISED: Steam Level = HOT
If you would like to read this story without any "scenes," check out Wendy: The Bewildering Bride
His Heartbroken Bride (Book 4)
Libby Chance Sims was orphaned, along with her siblings, at an early age, traveled west on the Oregon Trail, and thought she had her fairytale ending when she met and married a good man at trail's end. But ten years later, when her husband is killed in a logging accident, her life takes a horrific turn at the hands of unscrupulous "family friend," Hector. Fearing for herself and the lives of her two boys, she flees Oregon for Haskell, Wyoming and her family. But has she run far enough to escape her past?

Mason Montrose has never forgotten Libby, the beautiful, young bride he fell in love with before realizing she was married ten years ago in Oregon. When she steps down from the train in Haskell, dressed in widow's black with fear in her eyes, all of the affection and longing for her that he thought he put behind him returns. He will stop at nothing to protect Libby from the demons chasing her, both real and emotional, even marrying her to keep her safe.

Some demons are more sinister than others, though. When Hector arrives in Haskell, it takes more than the power of Mason's love and devotion to Libby to defeat him, it takes an entire community.

PLEASE BE ADVISED: Steam Level = HOT
If you would like to read this story without any "scenes," check out Libby: The Heartbroken Bride
His Tempting Bride (Book 5)
Miriam Long has been running for her whole life—running from her sinful past, running from her shameful mistakes, and running from the guilt of chickening out of her one chance to start over. But now, several hard months after refusing to get off the train and marry the man who sent for her as a mail-order bride, Miriam finds herself in Haskell, Wyoming once more. Only this time, more lives than just hers are at stake.

Cody Montrose is instantly smitten with the fun and flirty woman he meets by chance at Haskell's train station…until he learns that the object of his temptation is the very bride who stood him up. Anger battles with desire as the two of them struggle with the disaster that should have been their union months ago.

But there's more to worry about than their complex romance. Miriam has come to town with a traveling troupe of gypsy performers, and if they can't sing for their supper, they will all starve. In true Haskell style, the town rallies behind them, but is it enough to save the day and to rekindle the romance that both Miriam and Cody missed out on before?

PLEASE BE ADVISED: Steam Level = HOT
If you would like to read this story without any "scenes," check out Miriam: The Tempting Bride.
His Remarkable Bride (Book 6)
Everybody in Haskell, Wyoming knows that railroad stationmaster Athos Strong, widower and father of eight rambunctious children, needs a new bride. Even Athos knows it, but being a single father and a responsible stationmaster doesn't leave him time for romance. It barely leaves him time to remember the hopes and dreams of his younger self. Once, he dreamed of being a hero, a valiant musketeer, like his namesake, but then life took over. He sends away to Hurst Home for a mail-order bride, not expecting anything more than a friend to help him raise his brood. The last thing he expects is love…

Elspeth Leonard was once a rising star of the British nobility, until she was seduced into following a wealthy American across the sea. Betrayed, abandoned, and disowned by her family, she has spent the last six years struggling to keep her dignity as a third-rate governess and tutor. Finding Hurst Home was her saving grace. So when she was offered the chance to go west as a bride for a man with eight children, she took it, expecting nothing more than a stable home…

But between the lively and mischievous Strong children and the conniving and revenge-seeking Bonneville family, Elspeth has no idea what she's stepping into. When the children are taken away after allegations of neglect leveled against Athos by the Bonnevilles, Elspeth must step up to help Athos fight to keep his family together. What was supposed to be a mutually-beneficial, platonic marriage becomes something much more as both Athos and Elspeth come to see the heroism in the person they've married…

The greatest heroes are sometimes found in the most ordinary hearts…

PLEASE BE ADVISED: Steam Level = VERY HOT
If you would like to read this story without any "scenes," check out Elspeth: The Remarkable Bride.
His Forbidden Bride (Book 7)
Honoria Bonneville is dying. But she isn't about to let her diagnosis of consumption ruin what little time she has left. She's wasted her whole life catering to her obnoxious sisters and uncaring father, but no more. In a move to live the last days of her life on her own terms, she approaches the man she's loved from afar for years, local banker Solomon Templesmith, and asks him to marry her.

But Honoria underestimates the scandal of a white woman marrying a black man…

Solomon has admired Honoria from afar for ages, but has always held back from courting her, knowing the trouble it would cause. When Honoria comes to him, asking for his protection and friendship, he can't resist giving his heart to her…even though their union threatens to ruin the bank he's worked so hard to build up and possibly endanger his life.

Their heartbreaking, trouble-making, perfect match seems doomed to be magnificent but short…until a shocking revelation changes everything…

PLEASE BE ADVISED: Steam Level = HOT
If you would like to read this story without any "scenes," check out Honoria: The Forbidden Bride.
His Secret Bride (Book 8)
Bonnie Horner, madam of Haskell, Wyoming's house of ill repute, Bonnie's Place, has worked hard to make a better life for the girls unfortunate enough to end up in her employ. In fact, her Place serves more as a shelter and refuge than a brothel. For years, Bonnie has sacrificed her own happiness for the sake of her girls, going so far as to manufacture a sham engagement to local cattle baron Rex Bonneville in order to keep her Place financed. But when Rex demands the wedding take place, Bonnie finds herself in an impossible situation. Before she can marry Rex, she must divorce the husband she has kept secret for nearly ten years.

Rupert Cole has built a life for himself as half of the extremely successful King Cole Construction company out of Everland, Wyoming. But he has never forgotten the wife that he disappointed and drove away. When Bonnie appears in Everland, he thinks his deepest wishes for a second chance have come true. Instead, he finds himself embroiled in the battle of his life…the battle to win Bonnie back. But can love truly conquer all, or will Rupert and Bonnie both be forced to sacrifice their chance at happiness to save Bonnie's girls?

PLEASE BE ADVISED: Steam Level = HOT
If you would like to read this story without any "scenes," check out Bonnie: The Secret Bride.
 
His Christmas Bride (Book 9)
Rev. George Pickering thought he had put his past as a rich and debauched young man behind him, choosing to serve God and the people of Haskell, Wyoming instead of himself. He's ready to let go of the memory of the girl who left him at the altar ten years ago, and to marry a mail-order bride. But the woman who steps off the train to be his wife turns out to be the same woman who left him heartbroken all those years ago…

Holly Hannigan only journeyed to Haskell so that she could apologize at last for breaking George's heart and leaving him. The last thing she expects is for George to want to go through with their union. Ten years after running out of the church, convinced she couldn't marry a man who she loved but who didn't love her, she ends up becoming his wife…

But there is a world of difference between saying "I do" and learning how to forgive the mistakes of the past. Matters are complicated when a new minister in town threatens to take George's congregation away from him, right before Christmas. It will take a Christmas miracle to bring two damaged souls together in time to fight an even greater evil…

PLEASE BE ADVISED: Steam Level = HOT
If you would like to read this story without any "scenes," check out Holly: The Christmas Bride.
His Magical Bride (Book 10)
Haskell, Wyoming sheriff, Trey Knighton, has never considered himself the marrying sort. He'd rather face down a whole pack of bloodthirsty outlaws than give his heart away, especially after losing his entire family to cholera as a boy. Love is just too big of a risk. But Howard Haskell has twisted his arm into sending away for a mail-order bride, and he's too much of a gentleman to turn her away. He's convinced everything will be fine if his marriage is in name only.

Talia Lambert is overjoyed not only to have a home and a husband at last, she's eager to put her skills as a nurse to good use. She gets her chance only days after arriving in Haskell when influenza breaks out. She is happy to be of use, but as the attraction between her and Trey grows, so does Trey's fear that disease will take her too if she continues working with the sick.

But Talia and Trey face a danger more sinister than disease when her healing skill is labeled as witchcraft. Trey must defend Talia against the ridiculous accusations, even as he overcomes his fears to find with Talia the love he has always been missing.

PLEASE BE ADVISED: Steam Level = HOT
If you would like to read this story without any "scenes," check out Talia: The Magical Bride.
His Innocent Bride (Book 11)
Everybody else was doing it, so why not him?

Sam Standish has always prided himself on being a rough and rugged frontier saloonkeeper. Just because he likes to keep things neat and tidy, appreciates good home cooking, and thinks a grandfather clock would be a fine addition to any home does NOT mean he's the settling down type. But he sends away for a mail-order bride anyhow, expecting that once she arrives, his life will be as boring as plain toast.

Julia Frost is a whirlwind in pink cotton who comes from a long line of people that have met early, gruesome, and unfortunate ends. But she's determined to make Sam happy…even if she has to drag him there kicking and screaming. Life in Haskell is everything Julia has ever longed for. She even finds a bosom friend in Bebe Bonneville.

But chaos breaks loose when Julia and Bebe find a clue that indicates robber's loot is hidden in the saloon. And Sam's predictable world is turned on its head when Hubert Strong comes to him for help in wooing and winning Bebe. Will one set of sweethearts be able to help the others start a new life together (possibly with loot!) or will Rex Bonneville put an end to more than one romance?

PLEASE BE ADVISED: Steam Level – Hot
If you would like to read this book without any "scenes", check out Julia: The Innocent Bride.